Chania. The most popular place in the beautiful island of Crete reachable with our private airplanes and helicopters.
---
When one is talking about Greek islands, Crete is one of the most popular destinations. You can't go wrong with Crete. It's a very big island (compared to other Greek islands) and has to offer pretty much everything that a visitor may ask. There is a city in Crete, called Chania, which is the former capital of the Island. This city offers, beautiful beaches, rich artistic heritage, great historical significance and beautiful landscapes. Being a Greek island city, it has picturesque beauty and you most probably have stumbled upon its beauty through social media posts, mainly during summer.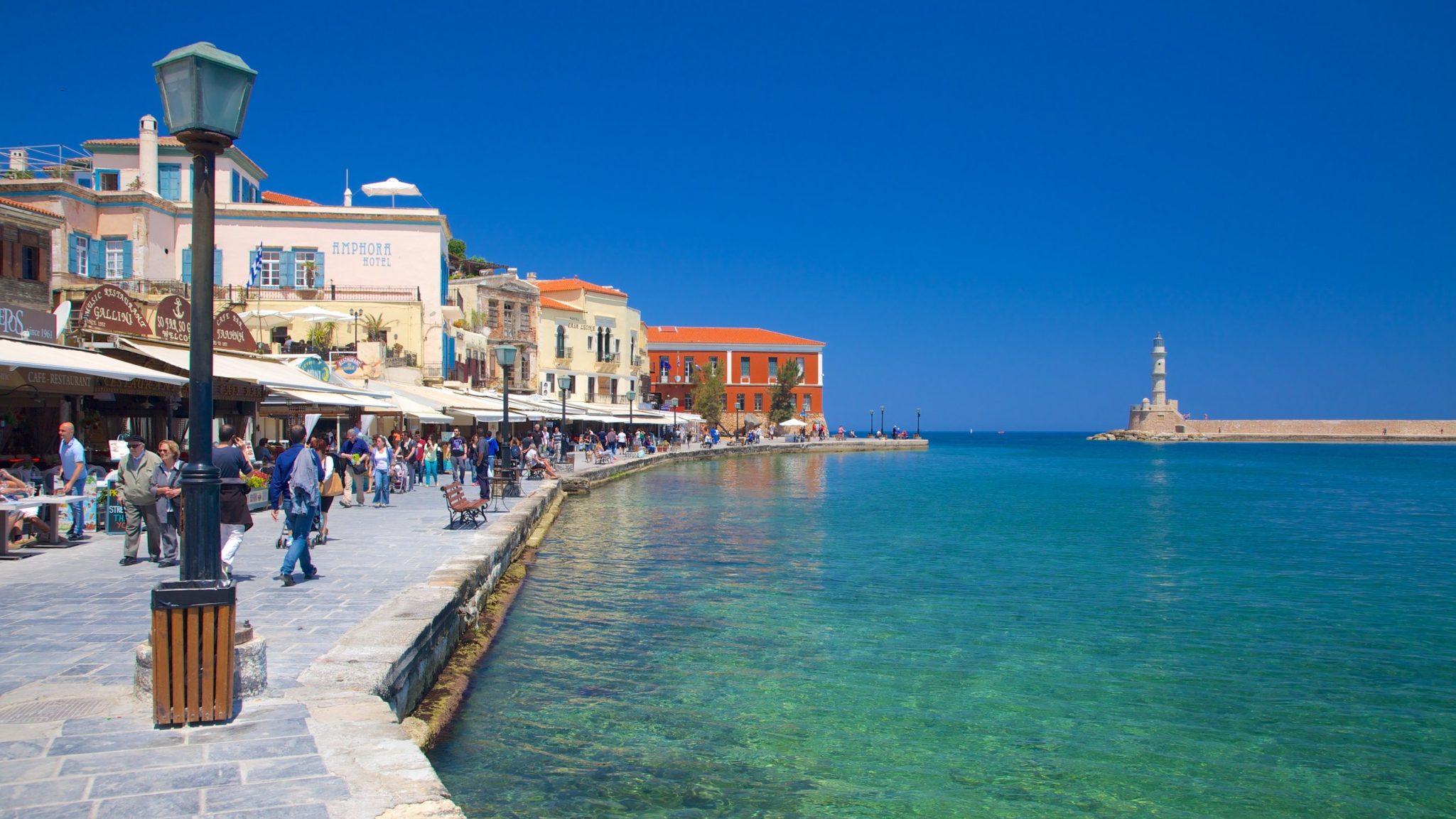 A walk in the Old town of Chania is a good start for the exploration, get introduced to its market and local products too. One should visit the Venetian Harbour, which was of course built by the Venetians near the end of the sixteenth century. In this harbour, you may spot Italian notes, as well as the famous lighthouse that is the symbol of the city of Chania. This lighthouse was damaged by the Turk invasion and was rebuilt in the nineteenth century. It goes also by the name "Egyptian lighthouse" since it was repaired by the Egyptians, when they occupied Crete by helping the ottoman empire. One shouldn't miss Firkas Fortress, which is the fortress that was built to protect the Venetian Harbour. Built in 1629, it still stands proud and next to it Is the Maritime Museum and a small theatre. Two other museums that everyone that loves history must see, are the Byzantine Museum and the Nautical Museum. The first one will mostly teach you about Saint George and his deadly battle with the dragon and the second one houses old relics of shipping, even dating back to the Bronze age. Don't forget to admire the golden sunset from the Venetian port which is majestic and one of a kind.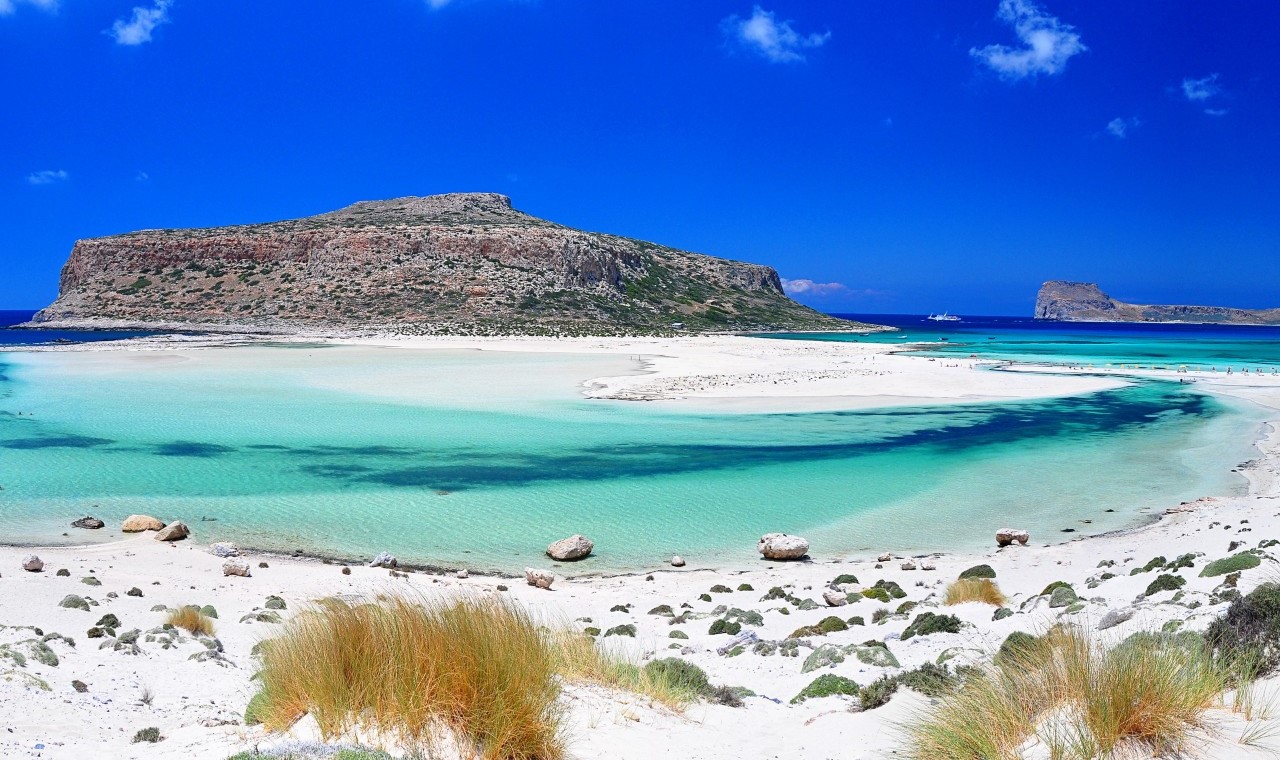 Regarding the summer activities, they are countless, with several beaches and beach bars or coffee shops all around. Elafonisi is one of the most famous beaches in Chania. A great palette of colours with light blue waters and golden sand. Famous for its shallow waters and beautiful landscape, Elafonisi awaits to awe even more people coming to visit around the globe. Another famous beach - but this time - for adrenaline lovers, is Paleochora. A short trip away from Chania, with great winds and the alias "the Bride of Libya sea". This particular beach is a main attraction for many surfers trying to get some waves. Agia Marina, the local's favourite beach, being very close to the city of Chania fills to the brim from sunrise. It is also full of beach bars and clubs, giving it a great nightlife too full of young people roaming the streets. Other honourable mentions would be Glyka Nera (which means sweet waters in Greek) which has fresh water from the mountain and needs a hike or a short boat trip to reach it from around, Balos with its rocky formations and shallow waters, Kedrodassos with its many cedars providing natural shade and relaxation and many more. The coasts and beaches are too many to mention and enough to provide you with great and different experiences.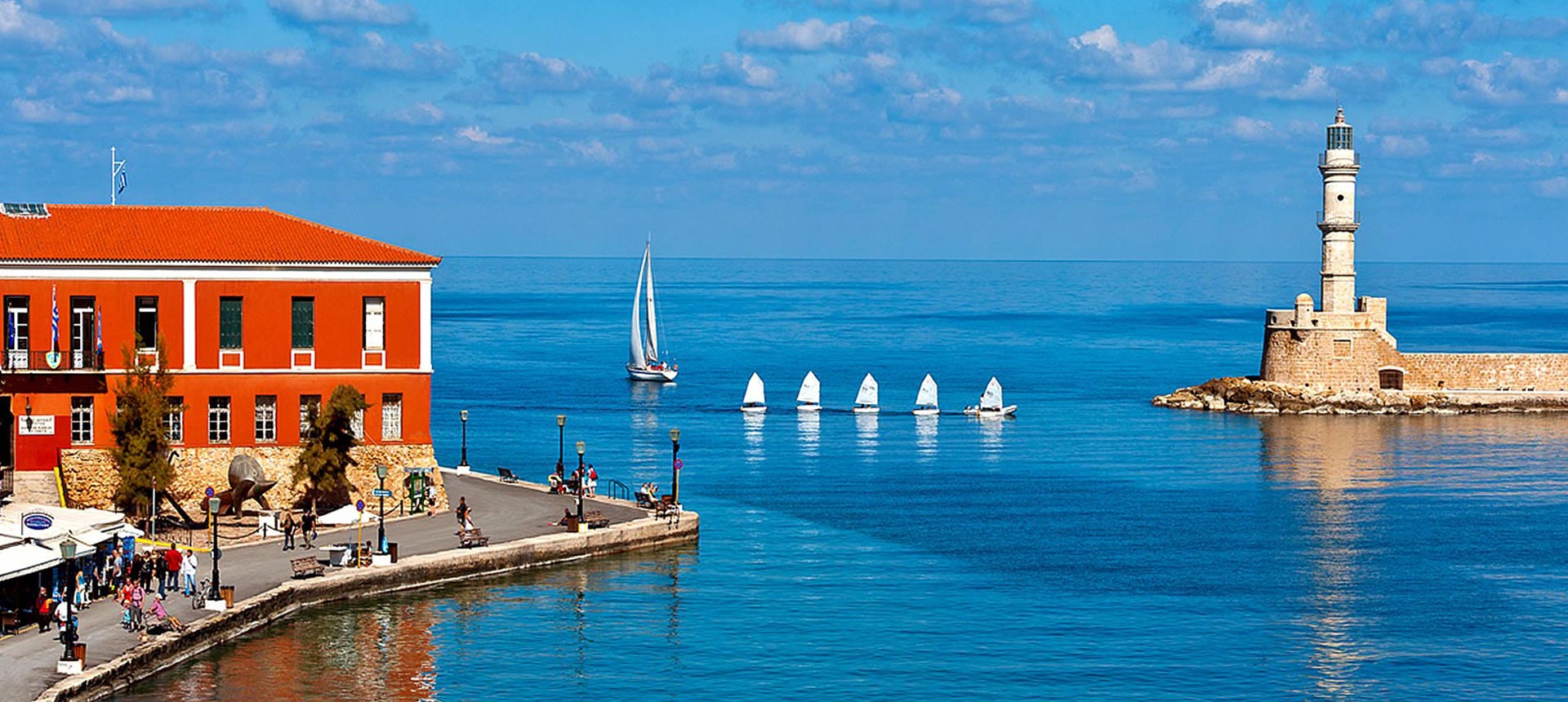 Day life as well as nightlife in Chania, are one of a kind each, with Cretans being famous for their great hospitality and their warmth, when welcoming people. They really make you feel like home or leave you wanting to buy one in Crete and stay all year round with great local food, amazing tastes, good wine and music. One will be most probably greeted with their local alcoholic beverage called Raki and with "meze" complimenting their drink. Many restaurants and cafeterias as well as bars and clubs will give you a lot of choices for every hour spent in this beautiful town.
The most popular airports in Chania for private flights are: 
Chania International Airport Ioannis Daskalogiannis (CHQ / LGSA) 
One can reach Chania by sea ferry from Athens or by a commercial flight from Athens. The most luxurious way to travel to Chania is by private flight with a Jet or a Helicopter. Skip the queues, the noise and the fixed time schedules. With a private flight from Athens to Chania, you can reach your destination lavishly and in comfort. Disembark your private flight, fully energized to explore Chania and its wonderful places. Book your flight now with Zela Jet!
Popular private charter routings from/to Chania.
Private airplane / helicopter Chania from/to Santorini
Private airplane / helicopter Chania from/to Mykonos 
Private airplane / helicopter Chania from/to Paros 
Private airplane/  helicopter Chania from/to Naxos 
Private airplane / helicopter Chania from/to Corfu 
Private airplane / helicopter Chania from/to Milos
Private airplane / helicopter Chania from/to Thessaloniki 
Private Jet Chania from/to Larnaca 
Private Jet Chania from/to Rome
Private Jet Chania from/to London 
How much does chartering a private jet from/to Chania cost?
To learn more on pricing please send in a request through our website or seek advise directly from our sales team at [email protected]