Private Helicopter Charters
---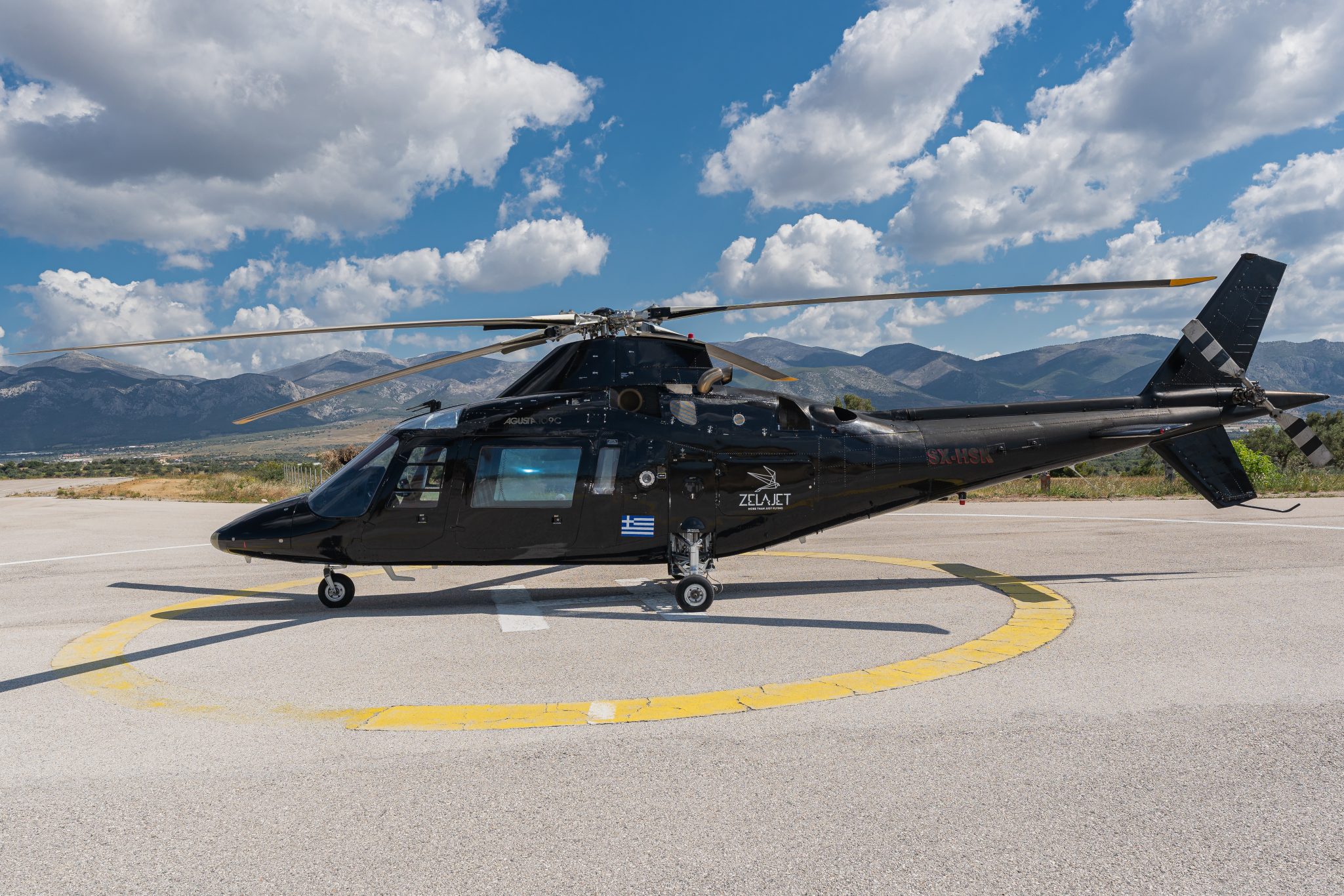 With over 3000 islands, Greece lends itself perfectly for helicopter flights. It is only the bigger islands which have an airport. Where a boat could take half a day to reach the most remote islands, a helicopter can reach the same destination in just a few hours. Paros, Antiparos, Mykonos, Milos, Naxos, Santorini Patmos, Spetses, Hydra and many more, all within an hour of flight from Athens.
A helicopter gives you the freedom to land as close to your final destination as possible. Many of the luxury hotels have a heliport in close proximity. Avoid airport procedures and long transfers and land in the back garden of your destination.
Zela Jet can offer a variety of helicopters, which can carry up to 8 passengers. Both single-engine and twin-engine are at your disposal based in Athens, Mykonos, Santorini and Crete. Chartering a helicopter in order to reach some of the most renowned islands in Greece is the ultimate way to travel. The reason is that during the summer period, the most popular islands such as Paros, Mykonos, Ios, Santorini, Antiparos and so on, are very crowded and finding an airline ticket for your specific dates is really difficult.
By booking a helicopter charter flight, not only you can choose the exact day and time of your flight but you can also make changes with no additional cost.
Your dream vacation in Greece is just around the corner. All you have to do is contact us and we will take you to your destination in a safe, fast and stylish way.
Private helicopter charters for your bespoke experience
Fast, flexible, and VIP air travel experience? Yes, please! Zela Jet is your bespoke private helicopter service to charter a modern chopper in Greece or other Mediterranean countries. Say bye to airport check-in procedures and hit the skies in one of our heli-beauties.
At Zela Jet, we partner with the largest European operators for private helicopters for hire. And that means you have quite a lot of fleet options to choose from. Whether you're traveling with your business partners or a spouse, we have the right single-engine or twin-engine helicopter charter for you. Our singles are ideal for accommodating just a couple plus a pilot or 6-strong groups, while our twins are roomy enough to seat up to 8 passengers.
Are you looking to charter a chopper that will make you feel like a VIP? Some of our helicopter rentals boast super-comfortable seats that face each other so that you can keep eye contact with your entourage during your flight. Eurocopter, Agusta, Airbus, Bell, and other charters at Zela Jet are crafted to deliver the VIP experience you will never want to forget.
When a helicopter takes to the skies, you will certainly experience air traveling differently. Settle back in your seat and:
Enjoy point-to-point travel. Let a helicopter carry you to the destination from any take-off place. Landing strips and car transfers are no longer necessary. Your chopper can take you wherever you want, saving your travel time and maximizing your comfort. Lose yourself in stunning scenery. Make no mistake: helicopter charter flights allow you to capture spectacular panoramic views that no other aircraft can provide. When in Greece, this means your sightseeing tours become even more enchanting, with a gazillion islands being in front of your very eyes.
Plan an unusual travel itinerary. While flying by jet may limit a range of locations you can visit, private helicopter rentals do not. A chopper allows you to travel outside the box, whether you want to hit remote spots without airports or land at several places during a single flight tour.
Your VIP experience with Zela Jet starts with a booking process. Specify your travel dates, the number of passengers, and trip details so that we can get back to you with personalized charter offers. And if you can't wait to experience the heli-luxury, we will arrange your flight as soon as possible.
Thanks to Zela Jet's connections with European aircraft operators, we are positioned to offer the lowest helicopter charter prices ever. Although they include a bespoke service, you don't need to be a tycoon to afford a chopper rental!
Private helicopter sightseeing tours
---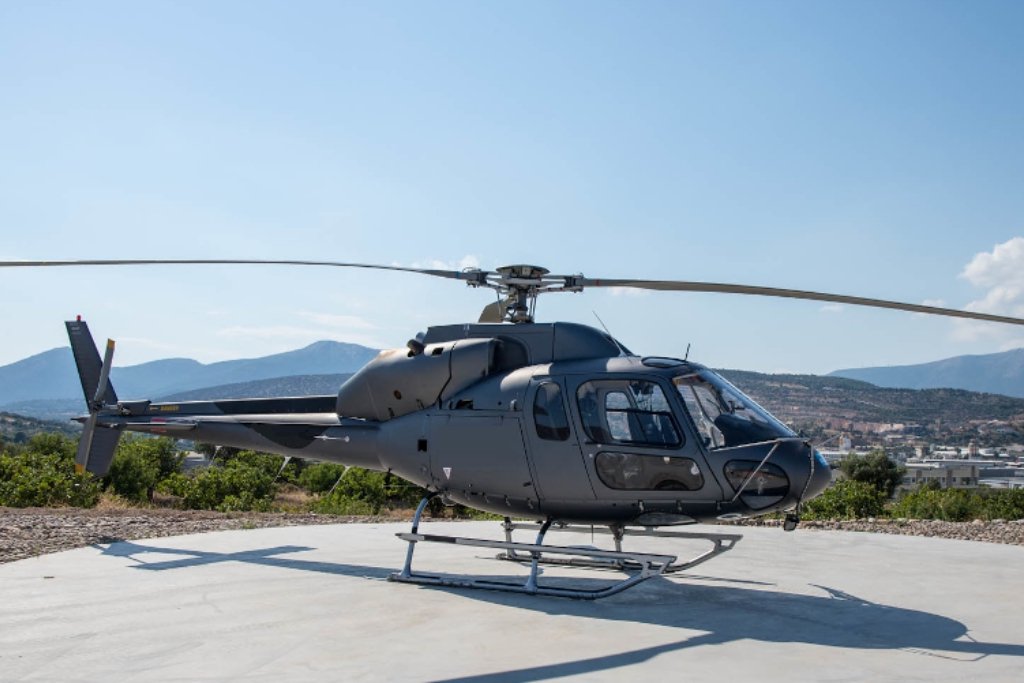 Helicopter Sightseeing Tours
Everything looks better from above. You don't believe us? Book a helicopter sightseeing flight with Zela Jet. Experience our specially designed flights and watch the beautiful mainland and islands of Greece from a bird's view.
Athens
Experience Athens and the wider area from just 500 meters in a 30-minutes to 1 hour sightseeing tour. The Ancient cliff of Acropolis, the Olympic Complex, the Temple of Poseidon, the Kallimarmaro Stadium and the Athens Riviera, are all included. A tour from above offers an astonishing perspective of the historic monuments of Athens. Choose your own tailor-made sightseeing flight and get ready for the experience of a lifetime.
Santorini
One of the most popular ways to experience the beauty of Santorini is a helicopter sightseeing flight. Fly over Oia village with the whitewashed hotels and the infinity pools, the Caldera, Megalochori and the famous vineyards on your way to Nea Kameni, to enjoy the spectacular view of the volcano. Make sure you bring your camera, as pictures of Santorini are massively loved during the summer period. Post your photos from above and start counting likes!
Mykonos – Delos – Tinos – Syros
A sightseeing experience you will cherish. Fly over 4 islands in just 1 hour. Depart from Mykonos and see Mykonian beauty from above, then fly over the beautiful beaches of Tinos. Next stop, Delos, one of the most important historical and archaeological sites in Greece (UNESCO world heritage site). On the final leg of the tour, you can observe the neoclassical architecture, old mansions and marvelous churches of the capital of the Cyclades, Syros.