Corfu. Just an hour away from Athens by a private jet.
---
Corfu is located in the northern Ionian Sea and it is one of the most popular holiday destinations in Greece. Corfu, going by the name of "Kerkira" by the Greeks, is an astonishingly beautiful island, quite big, with its Greek picturesque beauty, but it is also a great combination of cultural histories and influences from different peoples, like French, Venetians, Russians and Greeks.
Beautiful beaches and Greek islands go hand in hand in this earth as we know it. Each island has its own unique beaches with different combination of colours and energy to offer. Canal d'Amour also known as Channel of love is one of the most famous beaches of Corfu. It has sandstone rocks that rise up and form a canal. It is said that if true lovers swim across this canal, they seal their love to last forever. Single people that will swim far in it is said that they 'll soon find the love of their life. Other than the romantic approach, the specific beach is said to have healing and detox properties, due to its very rich in clay, water. Palaiokastritsa, which is the islands' most famous village, can offer various beautiful beaches for all tastes. Rocky, with pebbles, sandy, for sports, calm or busy, you can find the perfect beach for your liking in this area. Few well known mentions are Agios Spyridonas, Agia Triada, Alipa, Agios Petros and others. Benitses is another area with sandy beaches or beaches with pebbles, in which you can either choose the organised experience with sunbeds and bars or the unorganised experience with your own equipment.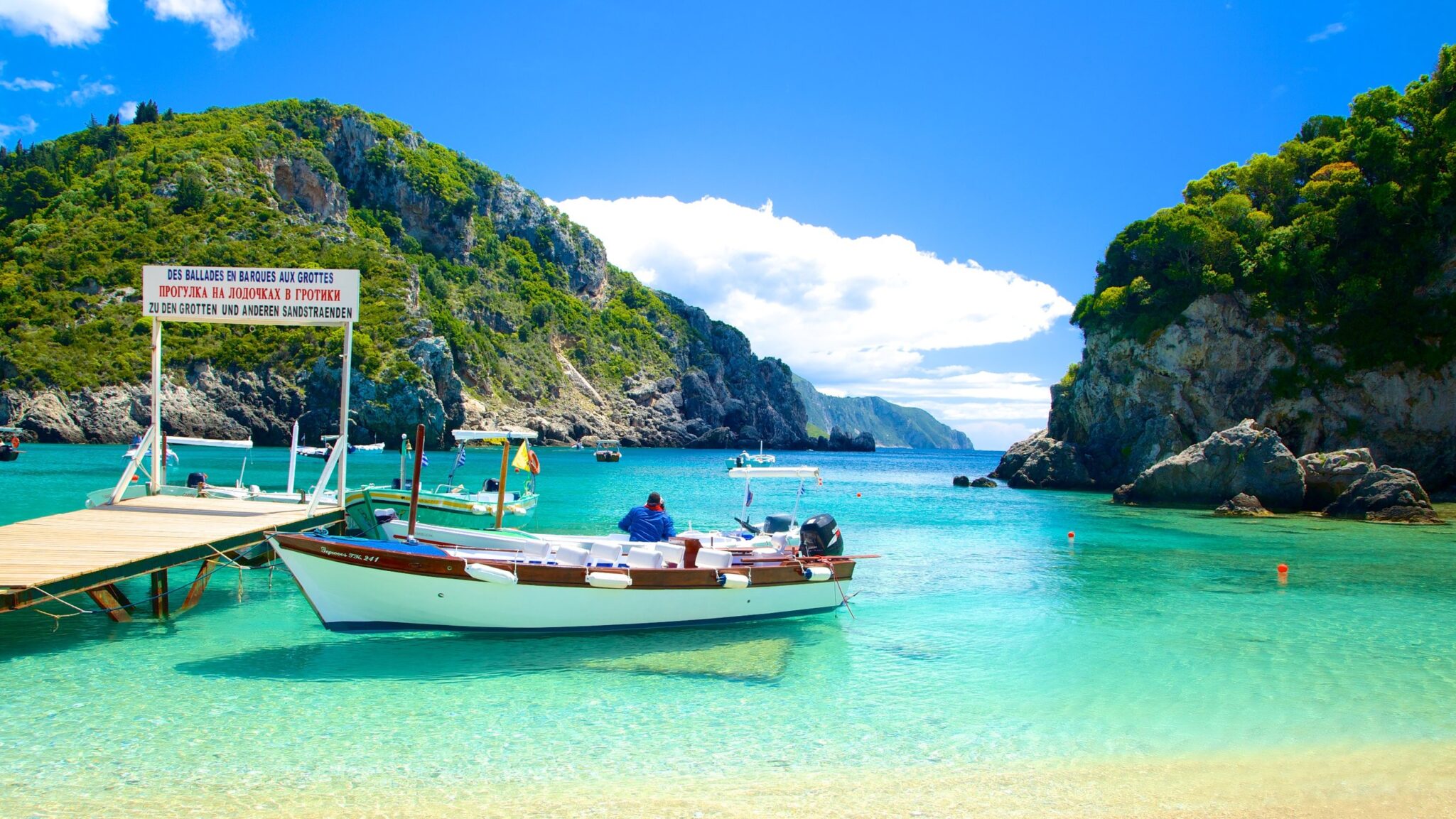 Kontokali is an area very close to Corfu town, where you can find a long stretch of a sandy beach which acquaintances many luxurious resorts and its services and facilities are of high standards. Myrtiotisa is another well-known beach but since it is hard to reach, one may need a 4x4 or a 20-minute walk from where a normal car can reach (without any damages). Colourful waters, great seabed for snorkelling and gold sand is what await the curious travellers who will visit this beach. Glyfada is another honourable mention really close to Myrtiotisa, a sandy beach near pine tree hills that provides all comforts, being next to Corfu's waterpark, the Horse-Riding club and the Golf club. Kavos beach is the beach for the party goers and the wild youth as it has bars that go loud from morning to late night. It is hard to believe but we haven't even scraped the surface of the beaches Corfu has to offer. The only thing left, is to go there and experience it yourself. Ask the locals about the great local food and places they might know. If you're lucky enough they may even share their secret places that are very well hidden from the crowd.
Regarding the history of Corfu, it dates way back to the palaeolithic era, being inhabited when it wasn't even an island yet. The most recent ice age resulted in water levels to rise, thus making it an island. Corfu, early on became a trade hub, while under the control of Phoenicians. Then it came to understandings with Athens during the Peloponnesian War but ended up conquered by Macedonians, while Spartans, Illyrians, and Romans were introduced into it. After the Roman Empire ceased to exist, it went under the control of Venetians and Normans. Corfu later on became a French state by the well-known Napoleon Bonaparte when he conquered Venice. Then Corfu also became a part of the British occupation. This escalation of changes stopped in 1864 when Corfu returned back to the Greek state. Having such a wild history, makes you pretty sure that you have places to visit if you indeed admire history. The old town of Corfu is a World Cultural Heritage Monument (UNESCO) having various ruins, churches, historic buildings landmarks and sights to provide. It's not rare to even see venetian buildings from the times when Venetians used to rule Corfu. 
The most popular airports in Corfu for private flights are: 
Corfu International Airport "Ioannis Kapodistrias" (CFU / LGKR) 
One can reach Corfu by a ferry or a commercial flight. The most lavish and comfortable way to reach Corfu though, would be none other than a private airplane flight (chartered jet or turboprop from Athens). Being only an hour distance from Athens, we can make sure you reach your destination in luxury and good spirits, in order to enjoy the island and everything it has to offer. Book your flight with Zela Jet now!
Popular private charter routings from/to Corfu.
Private airplane Corfu from/to Naxos 
Private airplane Corfu from/to Zakynthos 
Private airplane Corfu from/to Sofia  
Private airplane Corfu from/to Rome
Private airplane Corfu from/to Ibiza 
How much does chartering a private jet from/to Corfu cost?
To learn more on pricing please send in a request through our website or seek advise directly from our sales team at [email protected]