Reach Naxos with one of our luxurious private airplanes or helicopters.
---
Naxos island sits in the centre of the Cycladic islands, while being the biggest of them. A beautiful coastline stretches all around the island, offering beautiful beaches and well-known picturesque sceneries that circulate every year in the most relevant social media. Soft sand and clear blue-green waters are the main protagonists of the islands' beaches. Few of the famous beaches you can discover are Plaka Beach, Agia Anna, Agios Prokopios, Aliko Beach and many others. Others organised with beach bars and luxurious sunbeds and others unorganized for those who seek more privacy, making it a destination for all tastes.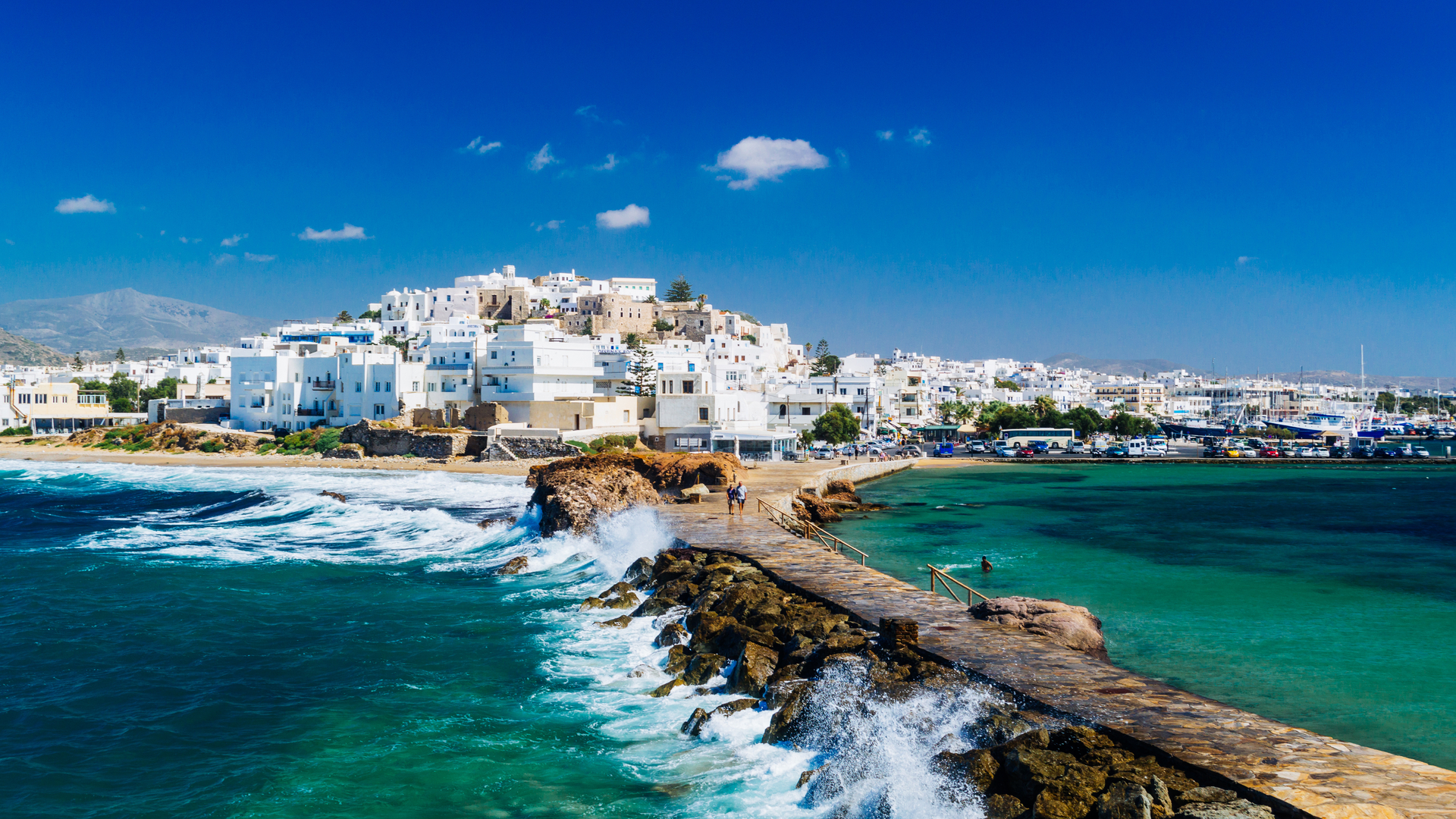 There are numerous of activities to experience in Naxos Island. Being a Greek island, it makes sure the wind is on your side and is has perfect spots for the lovers of wind surfing and kite surfing. Other than extreme beach sports, it has numerous hiking paths for the nature lovers and delicious local food with even its own products like Graviera from Naxos or Naxos Cherry Tomatoes. One can taste Greek wines like the gods used to drink and local olives representing the free spirit of Greece. The fertility of Naxos land, makes sure that you can have a variety of products that will surely make you want to stay even more.
In the port town/chora, there are two famous monuments. One is the Venetian Castle known as Kastro. The other one is the emblematic Portara, which is also the island's well known land mark. It is a huge doorway made of marble, around the 6th century BC and was dedicated to god Apollo. Even though it remained incomplete from the ancient years, its place became the warm welcomer of Naxos Island and coincidentally (or not) it is the best place to watch the sun go down. Naxos Island has golden sunsets that make you question If you are inside a painting or you are experiencing real life.
Traditional villages that managed to preserve their architecture and authenticity are also very known destinations. Some of them are Halki, Filoti and Apiranthos that are worth witnessing. Naxos offers interesting archaeological sites as well. One can witness temples, various beautiful Byzantine churches and Venetian towers.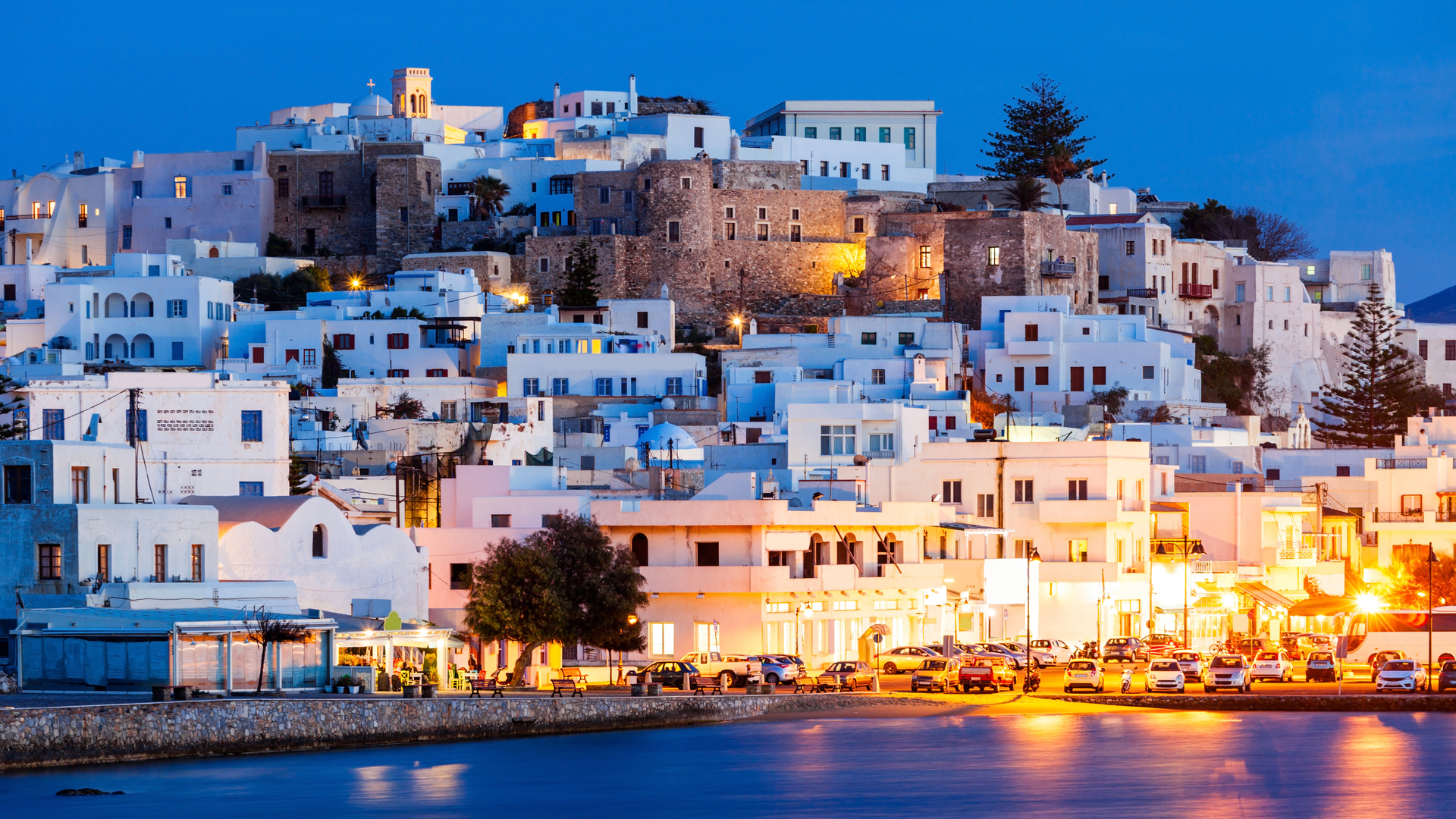 The most popular airports in Naxos for private flights are: 
Naxos Island National Airport  (JNX / LGNX) 
Naxos Island is accessible by boat and by commercial flights. One of the most popular and unique ways of visiting Naxos though, is by a private airplane (turboprop) or helicopter. The runway at Naxos Airport does not meet the requirements for a jet landing but Zela Jet can offer you a variety of smaller but very new turboprop airplanes and helicopter from Athens Int. Airport.  You are only a step away from experiencing this unique beauty up close. Contact Zela Jet and book your private flight now!
Popular private charter routings from/to Naxos. 
Private Airplane / Helicopter Naxos from/to Paros 
Private Airplane / Helicopter Naxos from/to Milos 
Private Airplane / Helicopter Naxos from/to Antiparos 
Private Airplane / Helicopter Naxos from/to Zakynthos 
Private Airplane / Helicopter Naxos from/to Patmos 
How much does chartering a private airplane or helicopter from/to Naxos cost?
To learn more on pricing please send in a request through our website or seek advise directly from our sales team at [email protected]