Santorini. The island where helicopters fly all day long.
---
Santorini - The island that launched a thousand travel Instagram captions. One of the most popular and picturesque islands in Greece, recognized all around the world.
Thousands of years ago a volcanic eruption caused the center of the island to sink, leaving a crater (or caldera) with towering cliffs along the east side, which are now Santorini's trademark landscape.
Santorini was ranked the world's top island by many magazines and travel sites, including the Travel+Leisure Magazine, BBC as well as numerous other significant travel and tourism websites and magazines.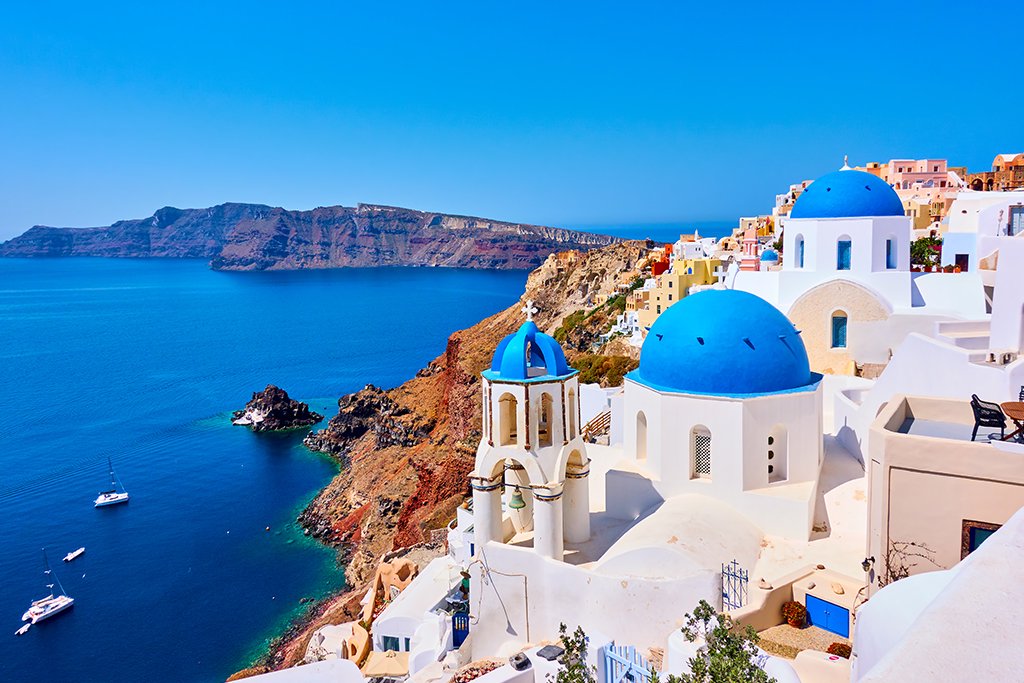 Over the past years, Santorini has become the ultimate wedding destinations with thousands of tourists visiting the island, either to perform their marriage ceremony or spend their honeymoon.
The village of Oia, hanging over the northwestern cliffs of the island, offers a breathtaking view of the Aegean, as well as the remaining of the Volcano. When the sun goes down, you will experience one of the most romantic and hair-raising sunsets in your lifetime.
Santorini accommodation is unmatched. Infinity pools, 5-Star hotels, Cycladic whitewashed villas, and exceptional service promise to make your stay in Santorini unforgettable.
Santorini offers a number of activities apart from its amazing geography and unparallel sunsets. Wine tasting, hiking, boat trips, colorful beaches and walking on an active volcano are just a few.
Santorini is accessible by a boat from the port of Piraeus (approximately 6 hours trip) or by plane from Athens Int. Airport (approximately 40 minutes flight).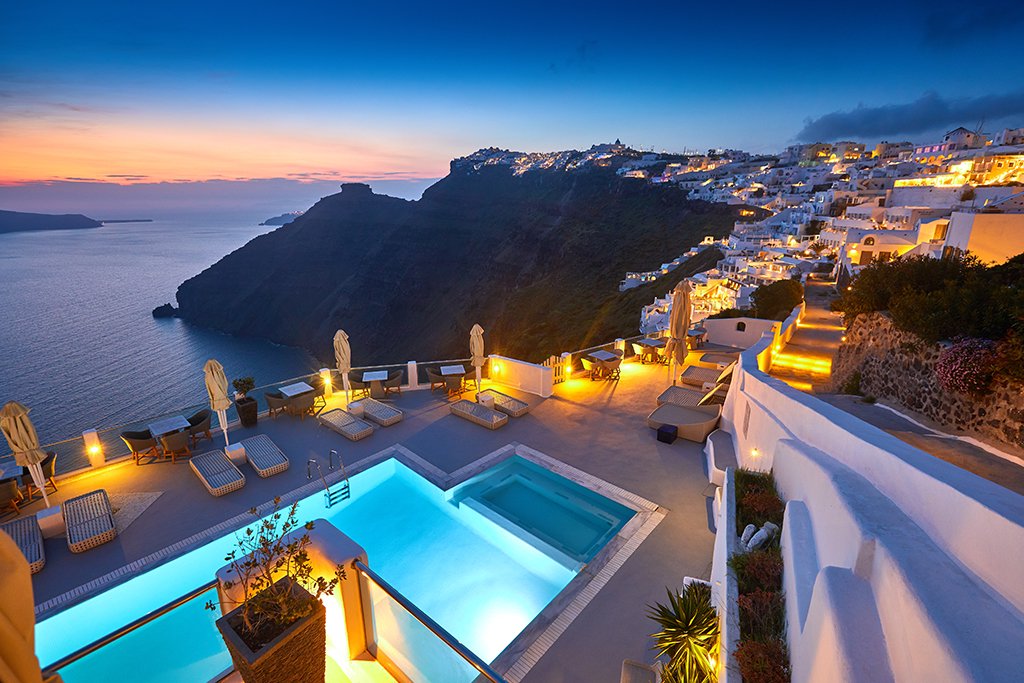 Zela Jet can offer you additional options to visit Santorini. You can charter a helicopter from Athens and reach the island in just one hour. There are many landing sites in Santorini, so you will avoid time consuming airport procedures upon your arrival.

Our past experience has taugh us that many visitors in Greece, choose to include Santorini to their vacation plans with a brief day trip from either Mykonos or Elounda. Zela Jet is able to offer you a helicopter based in either Mykonos or near Elounda in order to make your trip fast and cost-effective.
The most popular airports in Santorini for private flights are:  Santorini National Airport (JTR / LGSR)
  Furthermore, one of the most popular ways to experience the beauty of Santorini is a helicopter sightseeing flight.
Choose from 20 minutes up to 1 hour helicopter sightseeing flight and take unique photos from bird-view. No matter what your family or party size is, Zela Jet offers helicopter flights for 1 up to 6 passengers in a single-engine or twin-engine helicopter.
Popular private charter routing from/to Santorini.
---
Private airplane / helicopter Santorini from/to Athens
Private airplane / helicopter Santorini from/to Mykonos
Private airplane / helicopter Santorini from/to Paros
Private airplane / helicopter Santorini from/to Milos
Private airplane Santorini from/to Larnaca
Private airplane Santorini from/to Dubai
Private airplane Santorini from/to London
Private airplane Santorini from/to Ibiza
Private airplane Santorini from/to Nice
Private airplane Santorini from/to Riyadh
How much does chartering a private jet or helicopter from/to Santorini cost?
---
To learn more on pricing please send in a request through our website or seek advise directly from our sales team at [email protected]