Explore Spetses, accessible from anywhere in Greece with our private helicopters.
---
Spetses, an island located in the Saronic Gulf and is part of the Saronic Islands. It belongs to the prefecture of Attica. Spetses includes the islands of Spetsoula, Falkonera, and Velopoula, which are all inhabited. A picturesque island, close to Athens with a strong nature scene, since cars are not allowed in most of the island. Only around 50 nautical miles away from the capital, it is surely a very famous destination for all the people that want a relatively quick adventure.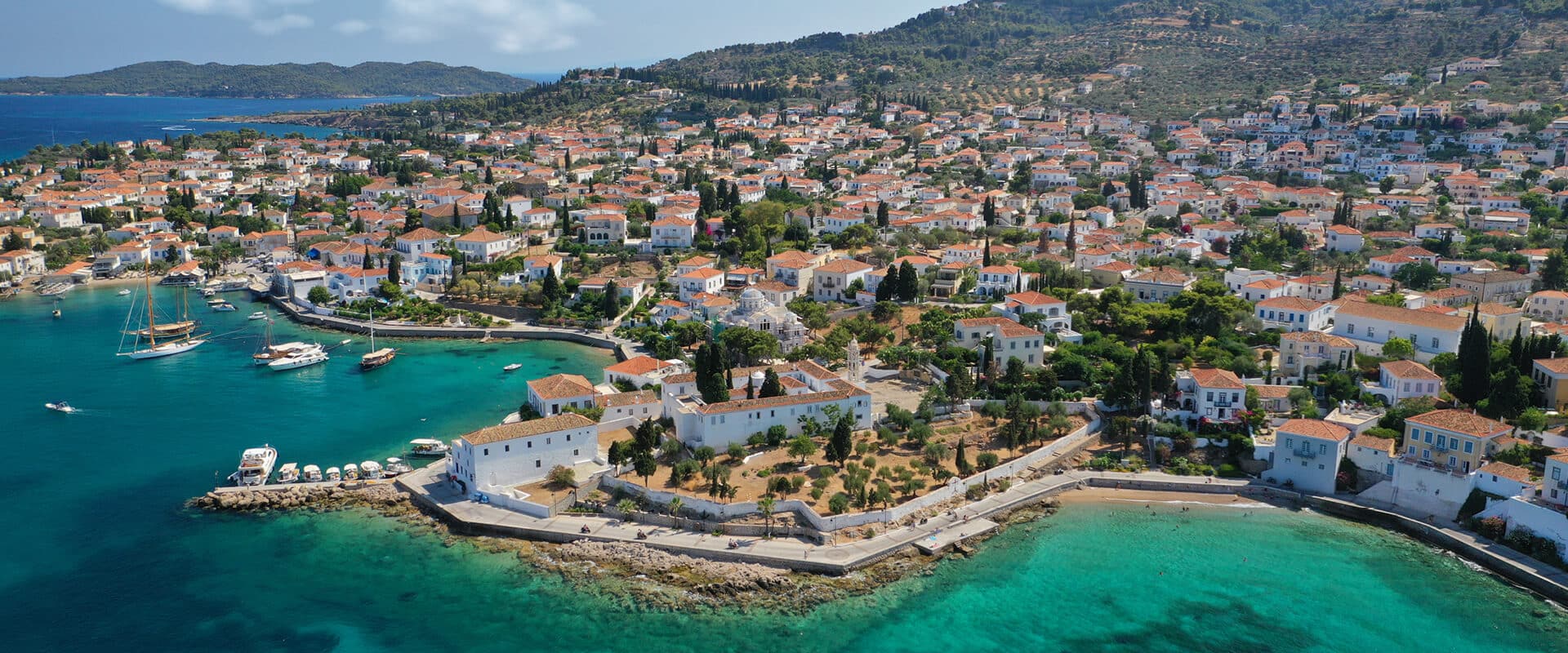 Spetses, according to various archaeological finding, is said to have been inhabited in early Bronze Age (2500BC). It was in the 15th century that more population started from the coast of Peloponnese but were finding it hard to form their settlement due to the amount of piracy attacks. Thus the first settlement started around the 17th century with the most common solution for islands, thick walls. Once the island was more settled, then it began to develop exceptional marine power and tradition which is the trademark of Spetses. The same trademark that played a massive role in the Greek revolution against the Ottoman Empire. The same ships that were mostly merchant, turned into a warship fleet that was used to free Greece. Spetses were from the first responders to the heroic revolution in 1821. Spetses Is the home of one of the most iconic figures of the Greek revolution, Lascarina Bouboulina. 
Spetses is part of a group of islands called the Argosaronic islands.  It is located in the Myrtoan Sea, at a distance of 52 nautical miles from Piraeus and just 1,5 nautical miles from Peloponnese. Spetses is organized around one single peak, which is Profitis Ilias, rising at an altitude of 300 m. A large part of the island is covered by a thick pine forest which is a protected environment. Spetses is surrounded by bays and little cricks, forming some very nice pebble and sandy beaches which usually are next to tall pine trees. Agia Marina, Vrelos, Ksilokeriza, Kouzounos, Scholes, Zogeria. All have beautifully clear waters and some are secluded beaches with pebbles or sandy.Just a walking distance away one can go and relax to paradise like scenery, shaded by pine trees and enriched by the Greek sun. There is also a beach called Agios Arnargyros, where you'll discover the impressive Bekiris Cave. Very challenging to reach by foot and more practical to reach with a small boat, is a cave with a small sandy beach on one side. A very romantic scenery with stalagmites and stalactites and shiny blue green waters.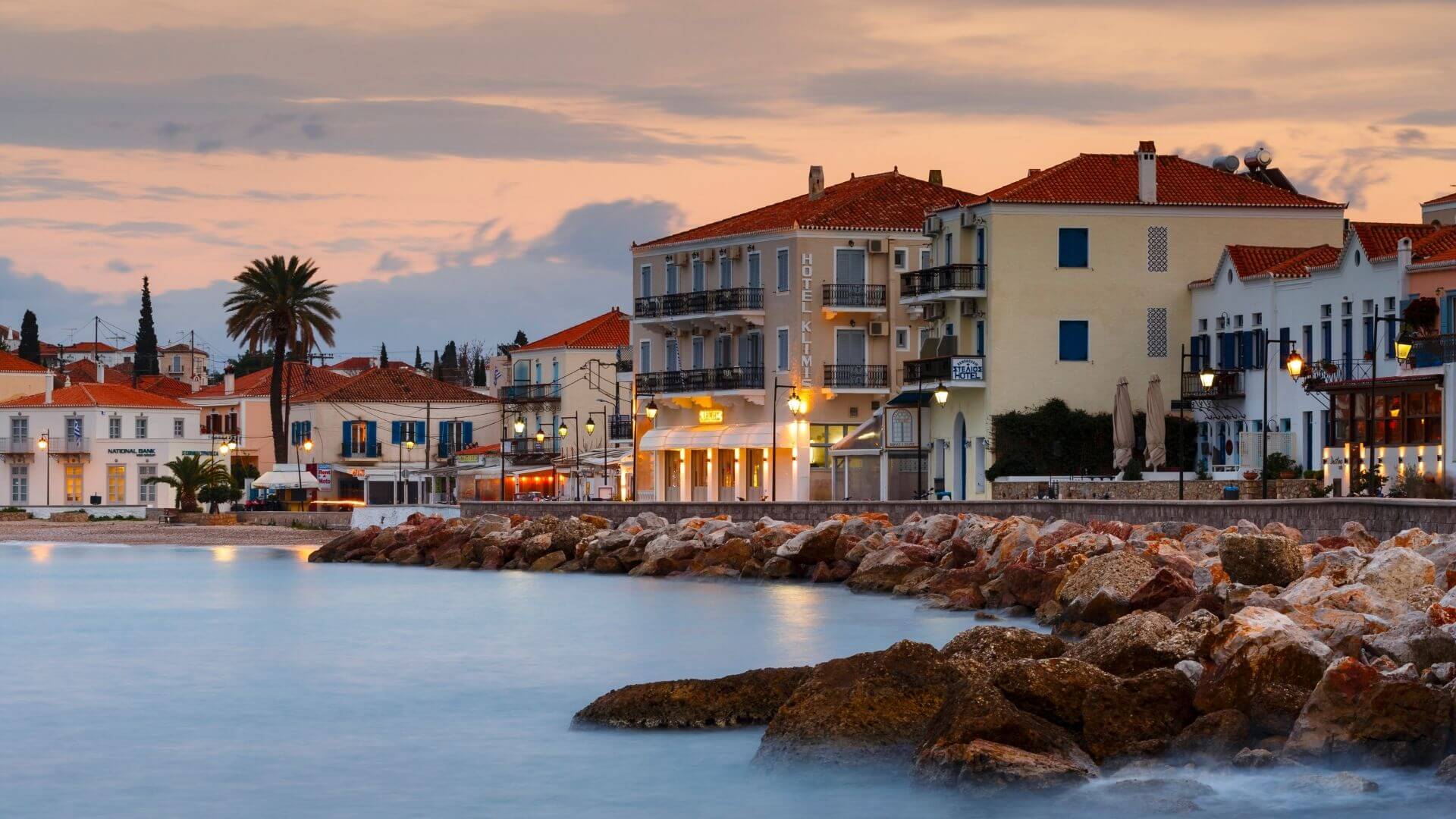 Since cars are not allowed in most of the island, the means of transportation is are horses and carriages. Take this chance to go and experience the town in a very traditional way. Visit cafeterias restaurants and shops and discover Spetses spirit with great Greek tastes under the Greek sky. Make sure to visit the old harbour, Agios Nikolaos and the main town, Dapia. The island has to offer two museums, Spetses Museum and the Bouboulina Museum. The first one has the archaeological findings of the island and the second one is in the actual house the heroine Bouboulina used to live in to and is dedicated of course to her contribution to Greece. The island has also nightlife to offer, having many night clubs and bars partying the Greek way till the early hours of morning.
The most usual and common way to reach the island of Spetses is by a sea ferry from Piraeus. The most luxurious and lavish way to reach this island is through a private helicopter flight. Avoid the long wavy sea ride, the queues and the crowds, by reaching your destination by air in only 30 minutes. Step on the island full of energy, lavishly and in luxury, to make every minute count. Book your flight with Zela Jet now!
Popular private charter routings from/to Spetses.
Private helicopter Spetses from/to Athens 
Private helicopter Spetses from/to Santorini
Private helicopter Spetses from/to Mykonos 
Private helicopter Spetses from/to Paros 
Private helicopter Spetses from/to Naxos 
Private helicopter Spetses from/to Milos
How much does chartering a private helicopter from/to Spetses cost?
To learn more on pricing please send in a request through our website or seek advise directly from our sales team at [email protected]