Visit Zakynthos by chartering one of our private airplanes from Athens.
---
Zante or "Zakynthos" as Greeks call this island, belongs to the Ionian Islands. White beaches, sea caves, sea turtles and great nightlife are a few things that describe this unique island. It is one of the islands that really capture the moment and get viral every summer in social media.
Navagio beach may be one of these places that you may have seen but don't know exactly where from. It is most probably from various media covering Zakynthos Island. Its one of the landmarks that visitors rush to see first. Navagio means shipwreck in Greek, and it indeed has an actual shipwreck on its coast. The shipwreck is said to be of an old smuggler boat that carried illegal cargo. It was chased by the Greek Navy in bad weather and ran aground in a shallow cove on the northwest coast of the island. Its not a cliche and really few would expect it, but the blue green waters that surround it, combined with the golden sand, make an amazing painting-like scenery.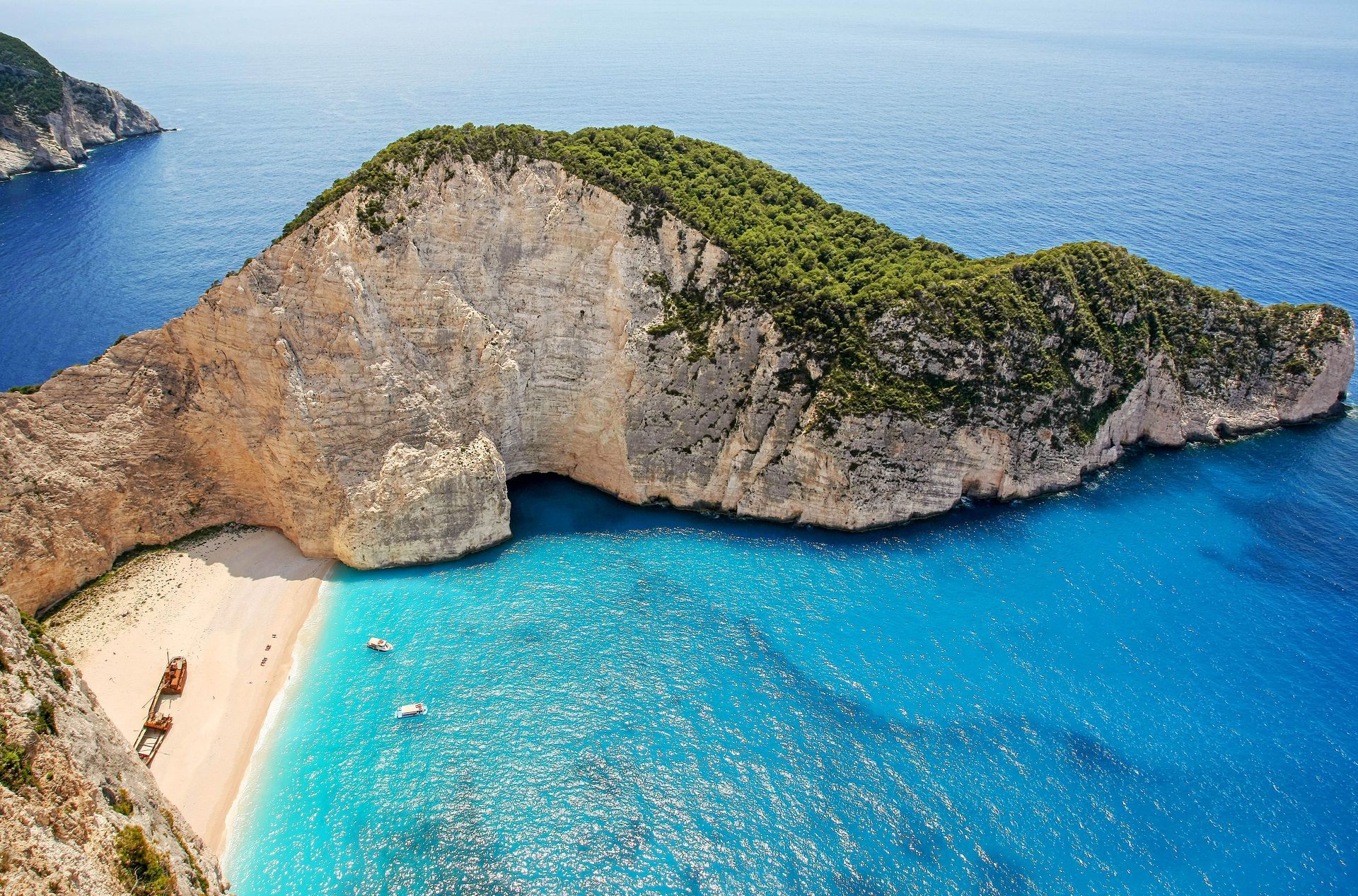 Zante also has to offer astonishing sea caves. The most famous ones are the Blue Caves that are located near Agios Nikolaos harbour, at the northern end of the island. These caves were slowly created by the passing of thousands of years, by the waves of the sea patiently picking on the islands' walls. There are activities that can be done in these caves, like boat riding, snorkelling scuba diving as well as swimming to witness the enchanting experience that Blue Caves are. There are also Keri Caves, which again will be more appreciated with a boat ride and detailed exploration. It is said to be the most secluded and quiet part of Zante. Chances are that you may spot a monk seal swimming in these waters, due to the fact that monk seals in the Mediterranean can only be found in Zakynthos. If you are visiting these parts of Zante with your lover, make sure you visit Mizitres. Legend has it that if you pass between these rocks while looking each other in the eye, your love will remain forever. Zante has a charming nightlife with both wild parties as well as lavish and calm places to enjoy.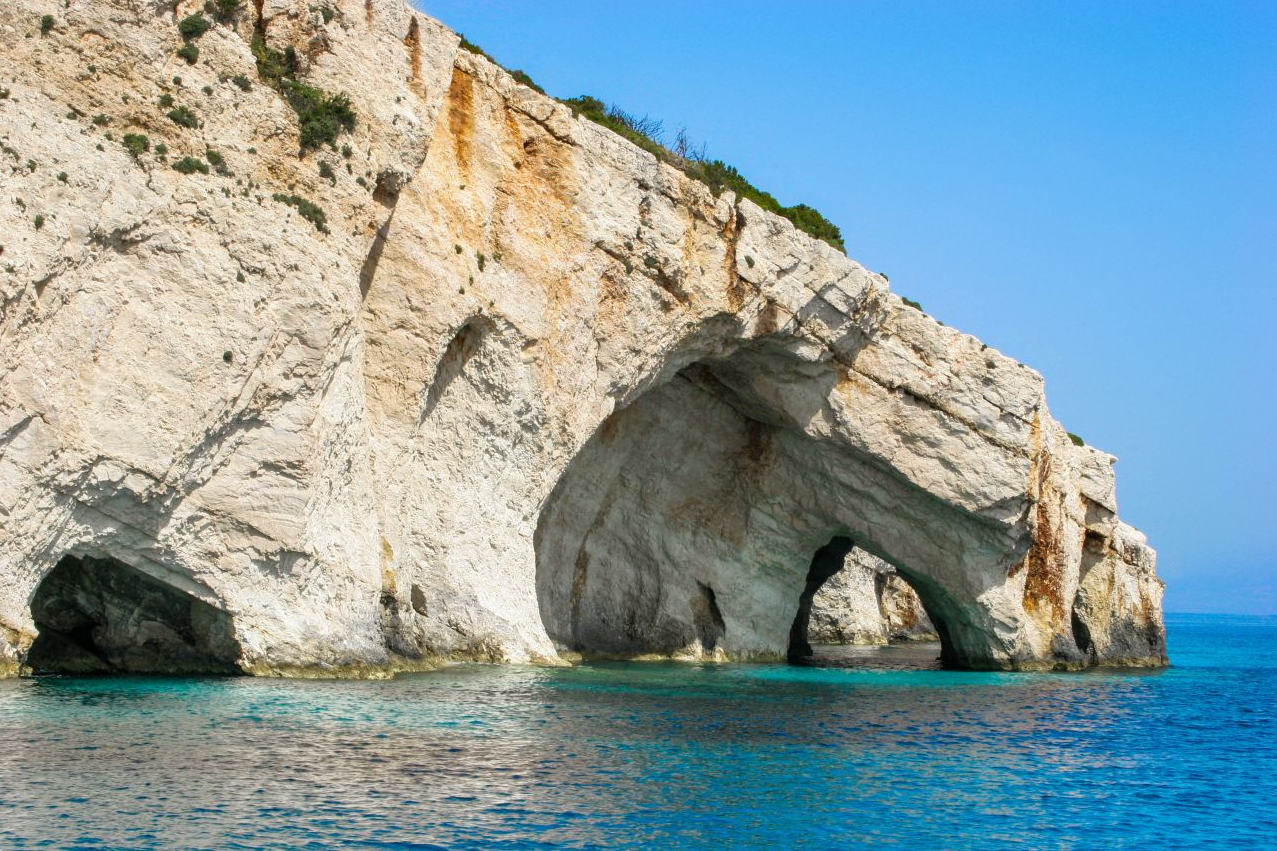 Zakynthos is very famous for its sea turtles, Caretta-Caretta. Close to Limni Keri's beach is an island that looks like a turtle. Marathonisi Island is (in a very weird coincidental way) the island which houses Caretta-Caretta sea turtles, where the turtles choose to breed and looks like one itself. On the other side of the island there are secluded exotic beaches that one can reach by boat and enjoy the privacy.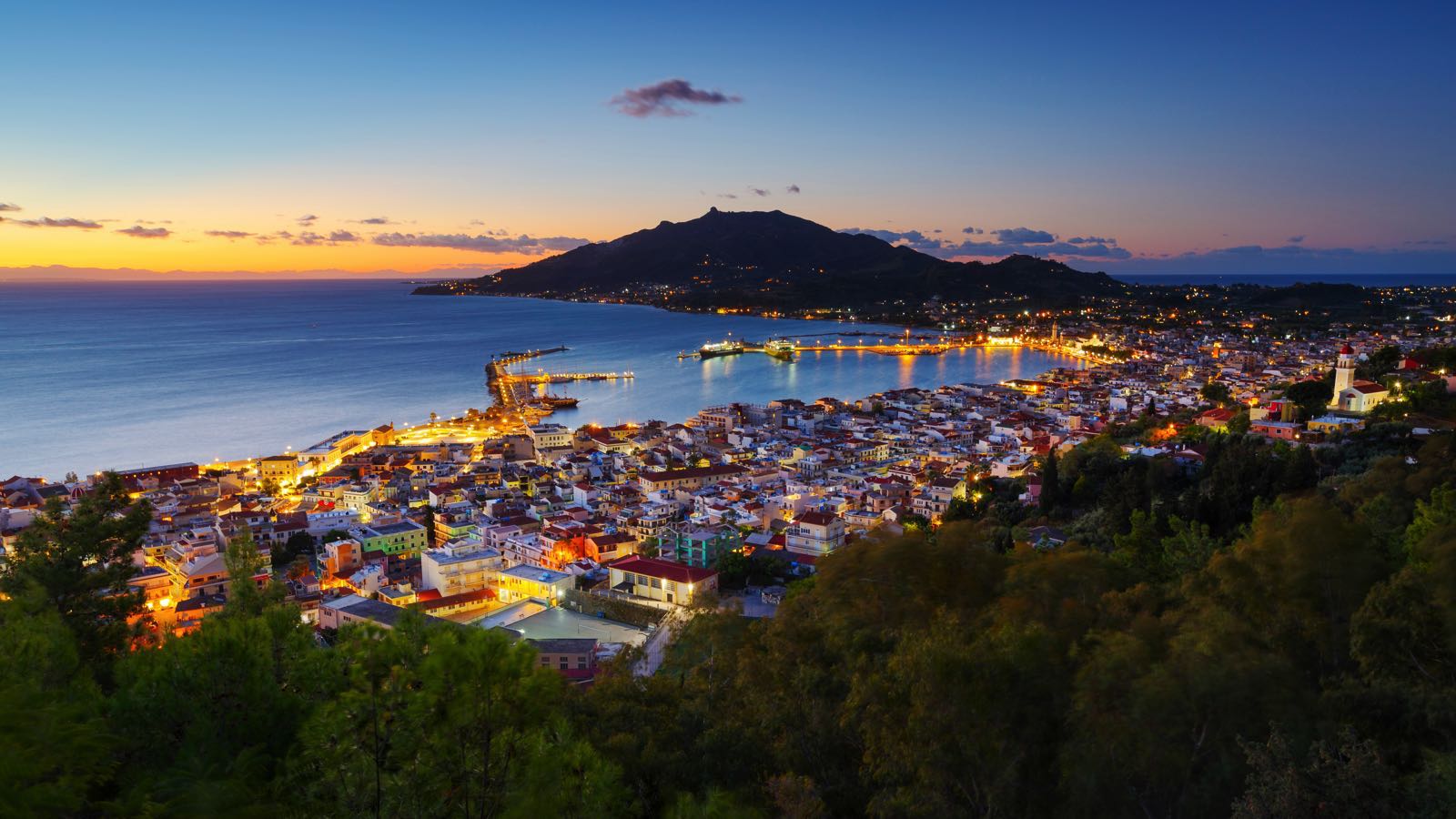 Other than the beautiful waters and ciastline, Zante has to offer its main Town which is full of choices for food, mementos, and entertainment. The church of Saint Dionysios which stands in the town for over 300 years, is build in the town and is dedicated to Saint Dionysios which is the patron of the Island. Solomos museum and Kalvos are also honourable mention to visit. A museum dedicated to two of Greece's most popular poets, containing their personal items, their work as well as the resting place of both of them. Lofos Strani is also another historic place to visit, since it's the view Solomos had when he was inspired to write the Greek national anthem.  Other places one can visit are the Post-Byzantine Museum, the Helmis Museum of natural history, the Roma Manor, The monastery of Agios Georgios ton Krimnon and other more. As an island it has its own Kastro (castle) which is a venetian fortress that used to protect the island.
The most popular airports in Zakynthos for private flights are: 
Zakynthos International Airport "Dionysios Solomos" (ZTH / LGZA) 
Zante can be reached by ferry and/or commercial flight. There is no doubt though that the best and most comfortable way to reach this rare island, is by a private airplane (jet or turboprop). Just a 40-minute flight from Athens, will get you to this paradise on earth, to enjoy and surely never forget. Zela Jet is specializing in private charter flights and one of our most popular routes is actually Athens to Zakynthos. Get your camera and swimsuit ready! Book your flight with Zela Jet now! 
Popular private charter routings from/to Zakynthos.
Private airplane Zakynthos from/to Naxos 
Private airplane Zakynthos from/to Corfu 
Private Jet Zakynthos from/to Larnaca 
Private Jet Zakynthos from/to Rome
Private Jet Zakynthos from/to Ibiza 
How much does chartering a private jet from/to Zakynthos cost?
To learn more on pricing please send in a request through our website or seek advise directly from our sales team at [email protected]